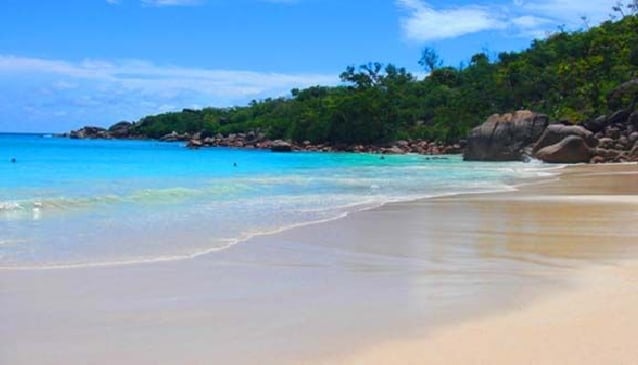 Top 5 Beaches of the Seychelles Islands
Seychelles
The Seychelles' islands are known for their white, sandy beaches and clear, warm waters, which truly give the visitor a 'tropical island' experience and keeps them coming back. Each one of the islands beaches offers a different experience and different characteristics for the traveller, so how do you know which ones are best suited for you?
1. Beauvallon Beach
One of the most visited beaches in Seychelles is Beauvallon; a long expanse of white sand lined with the odd restaurant in which to satisfy your midday or evening hunger. This beach is perfect for families due to the shallow incline, lack of waves and warm waters all year round.
2. Anse Intendance
On the other end of the scale, a more thrilling experience would be Anse Intendance, a beautiful bay that can be dangerous, due to currents and large waves in the south-east monsoon season, but for the rest of the year has deeper cooling clear waters, perfect for a swim during the hot peak periods.
3. Anse Royale
A keen snorkeler may want to visit Anse Royale which can easily be found in the south of Mahé, just off the main road. The waters are very warm and very shallow which make it possible to snorkel easily out to Ile Souris and see some incredible tropical fish. Those who have the stamina (and time!) may want to go all the way to the coral reef, as the waters are shallow enough to stand most of the way and this is where the most exciting trropical fish can be seen.
4. Anse Source d'Argent
One of the most well-known, and apparently most photographed, beaches in the world is one found on La Digue; Anse Source d'Argent. Separated from the next bay by large granitic boulders, which over time have formed stunning curves and shapes, this bay is small but wonderfully protected by a coral reef which makes it easy and fun to snorkel in.
5. Anse Lazio
Lastly, it wouldn't be possible to list the five top beaches of Seychelles and not include Anse Lazio, situated on Praslin. Voted the best beach in the world by a number of travel magazines, websites and national newspapers, this beach is truly magical and the epitome of the tropical island white sandy beach. The waters are shallow for quite a distance, which is great for children, and warm with no rocks or seaweed to bother you. The sand is as white as you can imagine and the surrounding trees provide enough cover until the tides chase you away at the end of the day.
For more information on Seychelles beaches and a comprehensive guide everything Seychelles; please visit: MySeychellesInfo.
By Faye du Preez, Seychelles
September, 2010